Hello, here is the menu !! (June 2023~)
About Us
The owner chef, Takao Hoda (Taka) moved to The Hague, the Netherlands from Singapore in 2022.
28 years of experience as a sushi chef, raised in a traditional sushi restaurant in Japan, where my parents made their sushi and served it at the counter. The restaurant was founded 88 years ago.
When I was 19 years old, I decided to train as a sushi chef somewhere other than my home restaurant. After several years of training, I came back to inherit home restaurant and since then I served my sushi there every day.
To expand my knowledge, I decided to go to Singapore using my connections. The sushi I made had a very good reputation in Singapore. After serving there for 5years, My unfailing passion turn to the Netherlands.
My goal here is to let as many people as possible enjoy traditional sushi and Japanese food culture using a variety local fish.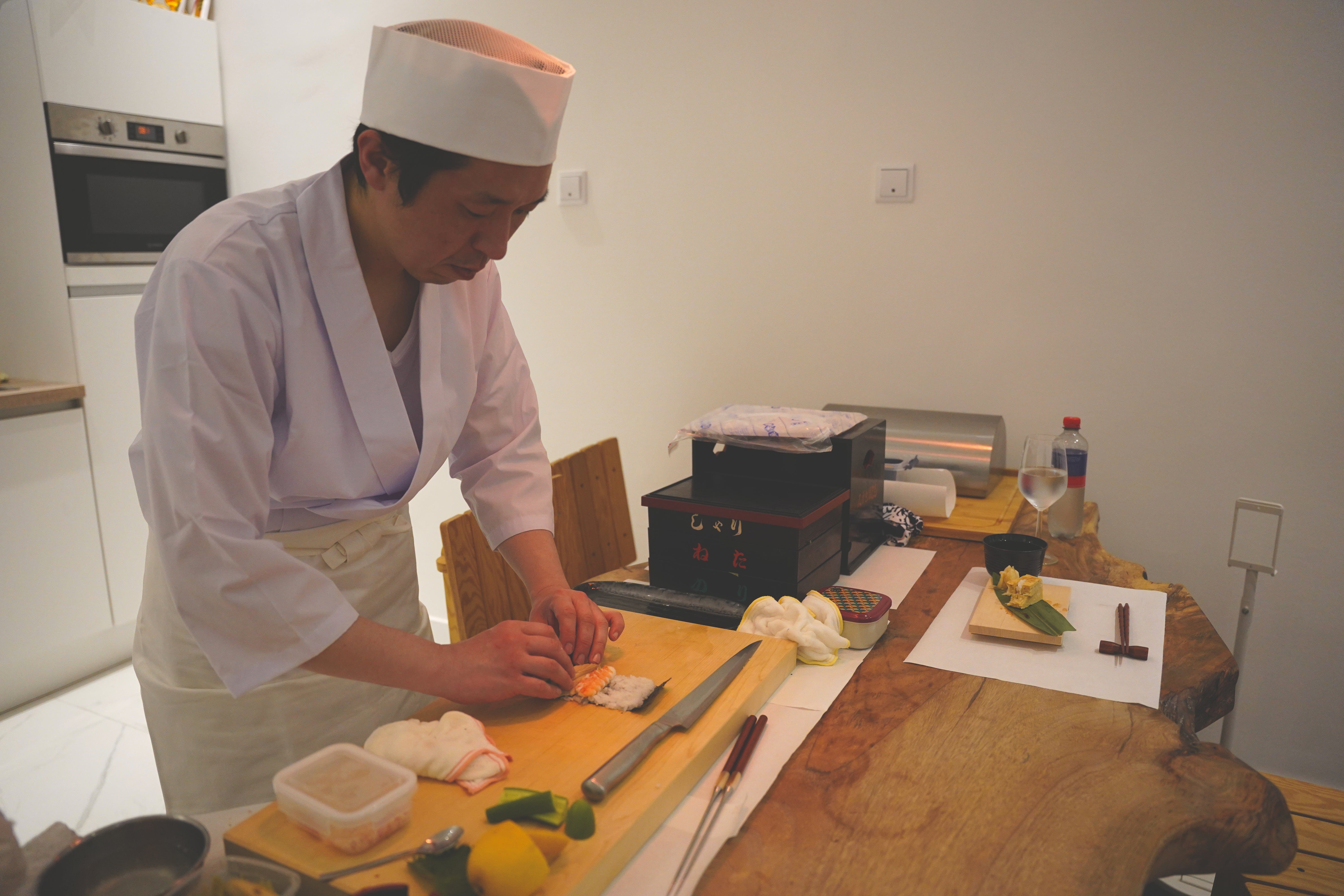 Edomae style sushi chef Catering servicE
for private dining & event caterings
Chefs who have learned traditional sushi will serve omakase sushi. Would you like to have a meal at home, a celebration, a home party, or a social gathering at the office?


Omakase Lunch course
€65 (9 pieces of nigiri, 6 pieces of sushi rolls, Omelet, Miso soup)
omakase Dinner course
€120 (Appetizer, Seasonal Plate, Starter, 11 pieces of nigiri, Omelet, Miso soup)
a la carte menu
Nigiri Sushi 1 pc (Choose what you like)

Roll Sushi *Recommended for kids
SERVICE POLICY

Reservation possible from :
Lunch : 3 persons~
Dinner : 2 persons~

Service area :
Mainly in The Hague city, and we also visit other areas, such as Amsterdam, Utrecht, Rotterdam and more.
Please feel free to contact us.

Please note :
The price listed IS NOT INCLUDE our transportation fee.

◆ NO CHARGE in The Hague city, Delft, Wassenaar.

◆Other areas, plus €30 as a transportation fee per person per order. The transportation fee is up to €90. Even if it's more than 4 people, we will take only €90.


- We will send you a quote after your inquiry. -

Negotiable :
Menu details, prices, quotes, where you live, what is the sushi menu for children? , sushi rolls? , sushi platter, sushi folding in a simple container, etc. Please contact us.

Reservation Cancellation Policy :
Points to note when canceling a reservation.
Free until 9:00 pm two days before,
Half price until 9:00 pm the day before,
From 9:00 pm the day before until the same day, we will charge the full amount.
Content from Google Maps can't be displayed due to your current cookie settings. To show this content, please click "Consent & Show" to confirm that necessary data will be transferred to Google Maps to enable this service. Further information can be found in our Privacy Policy. Changed your mind? You can revoke your consent at any time via your cookie settings.
Consent & Show
Address
Landrestraat 462
2551 CD The Hague
Content from Facebook can't be displayed due to your current cookie settings. To show this content, please click "Consent & Show" to confirm that necessary data will be transferred to Facebook to enable this service. Further information can be found in our Privacy Policy. Changed your mind? You can revoke your consent at any time via your cookie settings.
Consent & Show